Grieving the Loss of a Pet
Describing the bond you have with your dog, cat, or any other pet to someone who has never experienced it, can feel as difficult as trying to describe the color of the sky to someone who was born without the gift of sight… words just don't capture its true essence. Sometimes it feels like the only people who can really understand its beauty – and the depth of your loss – is someone who has personally experienced it.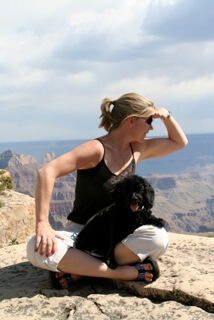 My story of Loee. ~ In 1995, I adopted my first dog – an 8 week old, 3.5 pound cock-a-poo. I named her Loee. She was my best friend, my travel buddy, my exercise partner, my watch dog (at 20 pounds!), my entertainer, my reason to be happy on any given day. Our bond was unlike anything I had ever experienced. Truly unconditional love and acceptance. I was often heard saying 'I strive to be the kind of person Loee believes me to be'. I knew losing this amazing dog would be painful and difficult when the time came. I didn't realize it would be as devastating as it was, until I actually lost her in July 2010. The grief I experienced after losing Loee was unbearable and unlike any other grief I had ever experienced.
The loss of a pet is intense and leaves an emptiness in our lives that feels irreparable. Whether the loss was expected or sudden, we experience a vast range of emotions including anger, regret, guilt, shame, loneliness, pain, relief and despair. As time passes and the fog begins to lift ever so slightly, we are often knocked down again by a wave of emotion, reminding us of our loneliness and deep loss.
Grief is a highly individualized process and how to deal with grief varies from person to person. For some, talking about their loss provides a reprieve from the sadness. Others find closure in holding a burial service and creating a special place where they can visit to feel close to their pet. It is a process that takes time to allow you to slowly heal, and find a way to exist without your beloved pet.
Helping others cope with their profound loss and adapt to a 'new normal' is a process I deeply value and appreciate. I will provide you with a safe and supportive environment where you can grieve your loss. I will listen intently as you describe the unique and special relationship you experienced with your pet. Together we will work through the different stages of grief when you lose a pet and begin the process of moving forward while keeping the memories of your beloved pet clear and close.
I would love to help you grieve the loss of your pet. Please reach out today or schedule an appointment.